Welcome to a page dedicated to frying and specifically deep fat fryers.
There are two popular way of frying chips/fries, chicken, fish etc.,
1.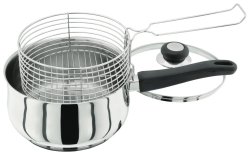 - the traditional chip pan which is placed on a gas or electric hob
2.

- the stand alone deep fat fryer
There isn't much explanation of a chip pan, it's placed on electric/gas hob and filled with oil. The major drawback is the oil/food capacity they offer and the lack of any safety features. The safety guidelines listed below specifically deal with chip pans.
Deep Fat Fryers
This is my guide to understanding deep fat fryers, there are lots available from brands such as Tefal, Delonghi, Breville, Kenwood, Russell Hobbs and Philips. The deep fat fryer has become a very common kitchen appliance, they are used to fry food like chips, battered fish and chicken. The benefits they offer families is a larger capacity to fry more food in one serving, free up a hob on a cooker and usually come with a few safety features like a coolwall. Some of the things to look for when buying a deep fat fryer is of course the capacity, most manufacturers list the oil and food capacity a fryer can hold. Out of the two it's probably most important to take note of the food capacity, as this tells you how much food the deep fat fryer can handle at any one serving. There are a couple of standard safety features to look for when buying a deep fat fryer, the first being a coolwall which means you can safely touch the side of the fryer when it's heated up. A mechanism to raise and lower the basket is also important, the food will be gradually dropped into the oil to ensure no splashes of hot oil. A large and clear viewing window is another important aspect of a deep fat fryer, it means you can close the lid and keep a close eye on the food and avoid any oil splashing out. A major drawback of chip pans is you usually have to leave the lid off and your worktop gets splashed with hot oil which can stain and burn. Now we get onto the advanced features offered by some fryers, and adjustable thermostat control being key. They can cut out the power when the temperature gets too hot, and when packaged with an inbuilt timer can fry food to perfection.


Safety
The traditional chip pan has been the cause of many household fires and has resulted in many burns injuries. Reports have estimated that one fifth of accidental fires attended by the Fire and Rescue services are caused by chip pans and deep fat fryers. Accidental fires started in the kitchen kill on a daily basis, therefore most people should be concerned by deep fat frying. Enough to read up on how to minimise the risks and fry in a safe manner.
Both have safety issues, but with the advent of technology the stand alone thermostat-controlled electric deep fat fryers promise to fry your food to perfection in total safety. The most advanced of these come with safety features like,
Of course the problem is that not all stand alone deep fat fryers come with all the above features, in fact very few do. Therefore the security cautions listed later will be of value to owners of all but the most advanced deep fat fryer.